Software can feel ephemeral: changing technologies, new platforms, and shifting demands. So, for our recent team outing, we wanted to learn about work that is timeless. We found Arion Press, a handmade book publishing company tucked away in the Presidio, situated between our other planned Outer Richmond activities: slurping soup dumplings and exploring the beaches south of the Golden Gate Bridge.

Arion Press, along with M & H Type, is the oldest and largest type foundry the country: Casting hot type daily since 1915! They're true craftspeople: printers, typesetters, bookbinders, and publishers continuing the tradition of making books from scratch. They combine fine art, typography and prose; frequently pairing commissioned artwork from contemporary artists with great works of literature. They publish two or three high quality books each year.
Much like the puppet show that is software, producing books is (one) part technical mastery and (ten) parts hard work, checklists, patience, and teamwork. They have their own foundry where they manufacture individual types: think Times New Roman, 10 point, lowercase, italic, letter 'a' as one specific thing to be made by hand. They compose the prose by combining these individually made letters, molding them into larger lines and eventually pages. They then pass handmade paper through a machine about the size of two cars that requires three people to operate. At high speed, the machine dips the large metal page stamps into ink, presses it on to the paper, and flings it into a pile. It doesn't seem like it should work but seems to have better performance and reliability than any office printer we've jammed.
After the pages are printed, dried, and have passed the close eye of inspection (they have to occasionally remove ink splotches with a knife), the pages are ready to be bound. The bookbinders taught us how everything comes together to go from the raw materials to a beautiful book.
Thanks to their whole team for having us. Read more about the history of Arion Press and maybe give them a visit during their Thursday tours (book ahead). Feeling inspired by the aesthetic of hand set type, here's a quick version of our beloved Wagon that we hope to see inked one day:

We're on the look out for other great San Francisco afternoon trips. If you've been to any other off the beaten path spots, let us know!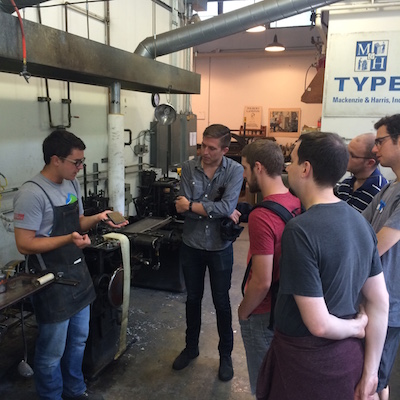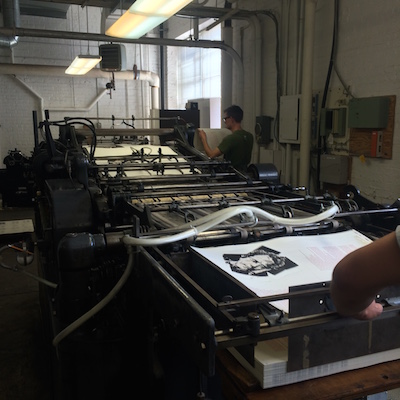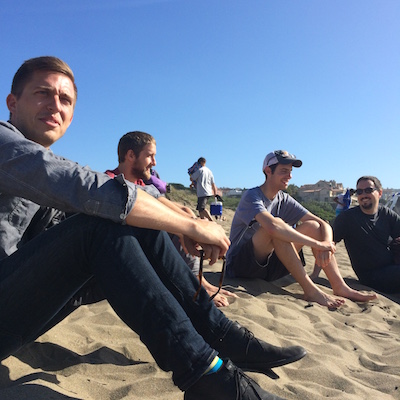 Wagon's recent field trip. Not pictured: lots of Chinese food!