We enjoy wonderful little surprises every day at Wagon: serendipitous run-ins, small-world moments, and hilarious coincidences. Whether it's the cadre of visitors we host for lunch, the tipsy bar patron who is secretly a SQL analyst, or the friend-of-a-friend lurking within our teammate's apartment asking: "Do you work at that Haskell data startup?" - we're amazed by where our fellow thinkers are hiding. The real secret is that these things, which might appear random, happen for a reason: we constantly seek to talk with people and bring them together. Serendipity doesn't happen; we make it.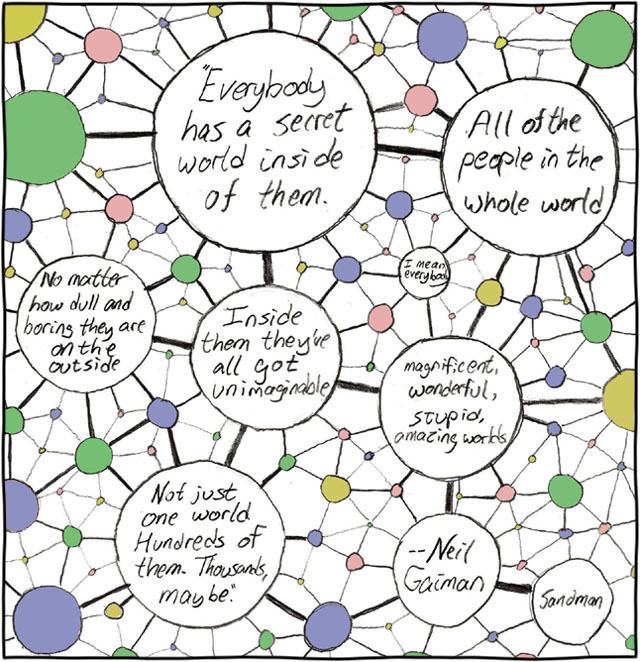 Secret Worlds by xkcd
We're fortunate to have a wide network of people: users, open-source contributors, recruits, neighbors, partners, friends of friends, out-of-town visitors, investors, etc… It's invigorating to hear stories from these different groups; their experiences motivate us and give context to the problems we're solving. We talk with hundreds of people each day through Intercom chat, our public #bandwagon Slack channel, and on Twitter.
A happy surprise about early-stage startups is that you'll meet more people than at a large company. Your network isn't just your immediate team and your chain of managers, it's anyone, anywhere.
We create the space for serendipitous encounters through tech meetups, our #bandwagon happy hours, open invites to lunch, our high touch user communication, and Wagon's faux-EIR program. Hosting events at our space in San Francisco is a great way to bring people together. Almost every week, we have 40+ people at our space for an after-work event. To make sure things go smoothly, events even have their own checklists: "In Event of Meetup" and "In Case of Party". We maintain a mini-CRM so we can throw impromptu events in other cities - we had a lot of fun hosting a happy hour in New York with Wildcard. We have an open space facing Valencia Street with views of Sutro Tower. Our Wagon office is configured for flexibility rather than posh — we hope you'll find it welcoming.
Upcoming Wagon Events
Join us for three half-hour Haskell talks about distributed code, graphs, and more. Matt DeLand (Wagon), Tikhon Jelvis (Esper), and John Chee (Twitter) will be speaking at our next Haskell event.
With two Penn grads on the team, we're excited to host the next Bay Area Wharton and Penn analytics event! There will be a few 5 minute "lightning talks" from alumni working on applications of customer analytics.
Learn from Kevin Sawicki (GitHub), Paul Betts (Slack), Mike Craig (Wagon), and Ben Gotow (Nylas) about how to make polished apps across Mac, Windows, and Linux using the open source project Electron (formerly Atom-Shell). We'll have four 20-minute tech talks. Come celebrate the community's first official meetup in San Francisco! There will be pizza.
Come to our monthly happy hour at our office in San Francisco. It's a great way to meet other data folks and friends of Wagon. It's very relaxed so feel free to just pop in between 6 - 9pm, Wed Sept 2nd.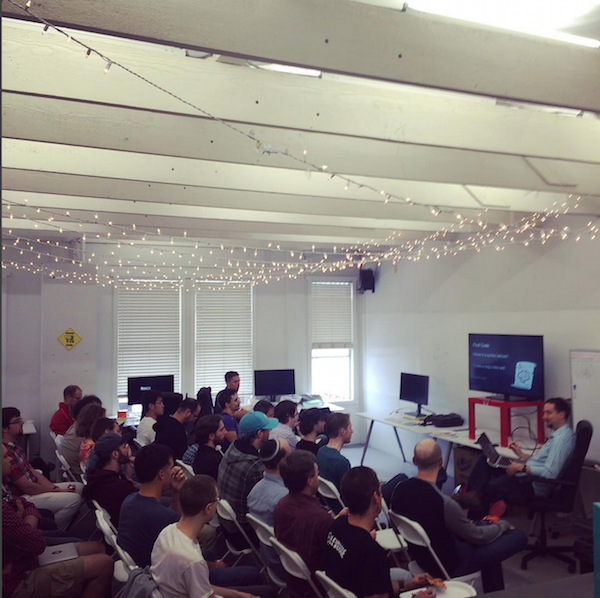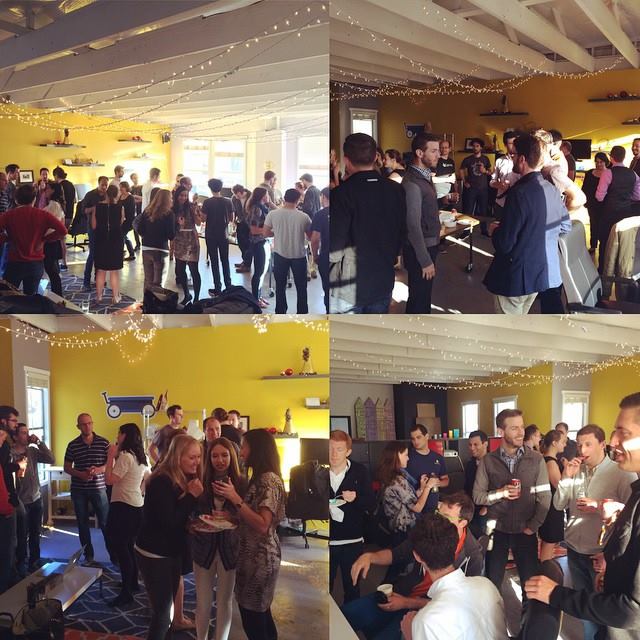 Joe Nelson's fireside Wagon Haskell chat and a recent #bandwagon happy hour at our office in San Francisco.
---
Thanks to Mission Bicycle Company (our neighbors), Mom & Daughters Chair and Table Rentals (just-in-time chair rental), and Instacart (official Tecate supplier) for making these events possible.
We hope to see you soon! If you'd like to be our next Wagon faux-EIR or want to stop by to say hi, just email us at hello@wagonhq.com or give us a tweet at @WagonHQ.